Years of Play
--You know, the cost really isn't that expensive considering how many YEARS of rough play it can take. I'm a strong believer in you get what you pay for. 😉 I've actually had the chance to test out the cheaper ones (other people bought them, not me!!) and frankly, they just don't compare and they certainly don't last. They're thinner and not as strong and pretty flimsy. They're about even with an exercise ball and those are definitely not for horses. People complain about them popping after only a few minutes of rough play. They bounce a lot, get blown around by a little wind. They're just wimpy. But your ball is sturdy, tough, and heavier. The cover on mine has held up through years of being bitten and carried by horses. I thought for sure it wasn't going to last, but it's STILL good. No fraying or torn areas anywhere. The seams are solid. I've kept the ball inflated for years at a time too. And I don't even need to keep inflating it. It stays as is. You guys DEFINITELY make the BEST ball on the market. No doubt. I tell people where to buy it!! 🙂 The arena where I use it for horse soccer is right up against a road and when the ball is out, we stop traffic 😀 Great Product! Thank you so much!!!!! Can't wait to get the 25" for my doggy! I know he'll put it to good use 🙂
— Ivonne Gutierrez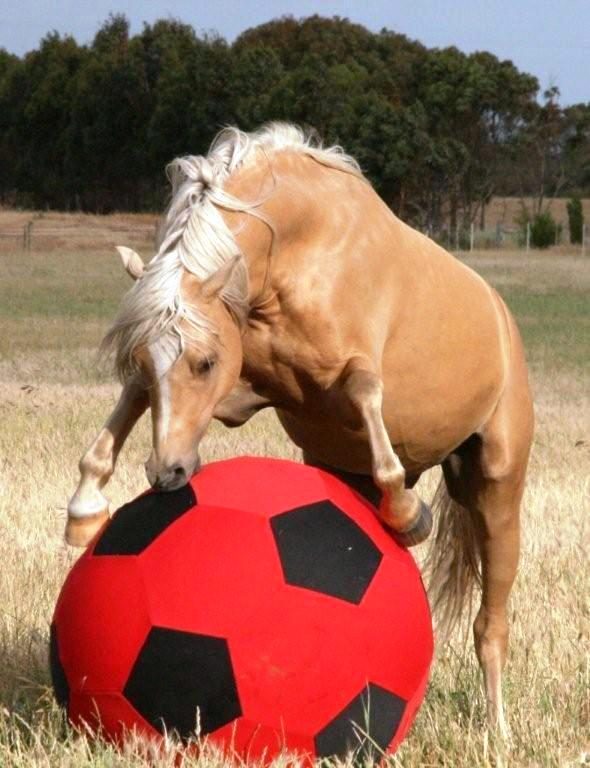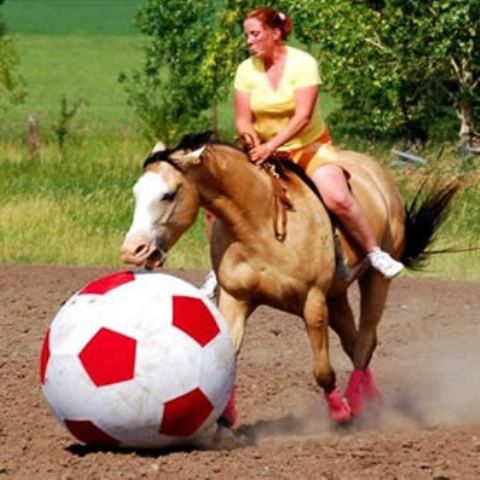 Great for Training Young Horses
We have been so impressed with your EquiSpirit balls and the horses, especially our two year old, absolutely love them! Not only is it perfect for exercise, agility, and muscle building, but even more importantly, it is fun and stimulating. Our horses are often in training for years and we always try to find ways to keep them interested so they are enjoying what they learn. We wish we had thought of incorporating these balls into their daily routine long ago, especially when they are young and still growing. Also, we cannot say enough great things about how wonderful you have been with your customer service and attention, so we feel it is the least we can do. Kind Regards,
—Deandrea
The EquiSpirit Ball Gave Me My Horse Back!
I have a 19-year-old Thoroughbred/Hanoverian gelding who has had a multitude of health issues over the years. He's had Lyme's Disease, a broken splint bone, hock degeneration - you name it. Each time, with a lot of love and effort, he thankfully comes back better and stronger.
After recent bouts with another tick-borne illness and colic, he was feeling better, but just not himself. Even the supplements and monthly chiropractic and acupuncture treatments weren't doing the trick. No one could identify why he was still lame. He didn't appear to be in any pain, and he looked better than he had in years. We were beginning to think it was in his head - he just didn't realize he was sound.
Then, the owner of my barn bought the 40" EquiSpirit Smiley Face Ball for her Andalusian stallion. From the minute that Blue saw that ball, he was a different animal. He was completely sound! He went from trotting with a head bob/wag to flying across the field in a beautiful extended trot. He trotted and cantered perfect figure-eights and serpentines, and stood snorting with head and tail up like a stallion. It wasn't just that day either - every time he sees the ball, he has the same reaction. Now, he is perfectly sound, happy, and acting like a 6-year old again.
I cannot thank you enough for this amazing product. It gave me my horse back!
— Jill Higman
My Horses Are Crazy With Their New Ball!
My horses are just crazy with their new ball 🙂 Wasn't fast enough to get a pic of my mare tossing it, but got them after!! My older boys 28 and 32 were in their stalls content to go to bed. The ball itself is heavier and the cover is amazing.....MUCH thicker 🙂 Thank you!!!!!
— Tara Mitchell
Awesome Customer Service
The replacement arrived today. Your customer service is "AWESOME." I really appreciate everything. Wasn't really an inconvenience, and I am proud to have purchased from such an outstanding company. Be assured that we will be back and I will be passing this around. Thank you again!
— Scott Bryant
Lucy, the Newfoundland with her Canine-Spirit Ball
I thought you might like a video of my Newfoundland, Lucy, playing with her spirit ball. It is her favorite toy. Before we got her the spirit ball, she would pop every ball we gave her. Because she is such a large dog, we went through many exercise balls. She's not a very active dog but the spirit ball gets her running.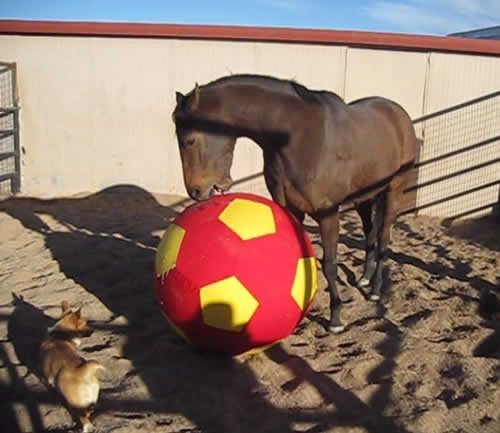 135th Kentucky Derby Winner "Mine That Bird" LOVES his EquiSpirit Ball
His co-owner, Dr. Leonard Blach contacted the EquiSpirit office to order another EquiSpirit ball. He stated via email, "Mine That Bird has so much fun with his ball. He always had something to play with, but this is his favorite toy. He has it in his sand paddock in the daytime, then at night he wants it in his stall with him; it's his security blanket. I love watching him play with it. Thanks so much for this idea."
— Nancy Sisinyak
The Only Ball That Won't Pop!
Many thanks to you for making a product that will withstand my horse's energy! I have a 3-year-old Andalusian stallion, Rinaldo, and he is unable to be turned out with other horses. This ball allows him to get out his aggressive young-boy energy in a healthy and fun way.
This video is from the first time I gave him the ball (His birthday present). He absolutely LOVES it! He has been popping the regular store-bought yoga balls in about two minutes, and that adds up in cost! If your ball holds up as you claim, it is well worth it.
After seeing the video of the draft horse laying on it without it popping, I was sold. Rinaldo and I will be happy to promote your product in any way we can. Thank you again.
— Mary Lew Johnston,
Meredith Manor International Equestrian Centre
Cows Playing with an EquiSpirit Ball
Some of our cows playing with the wonderful ball you donated to Eye of a Horse mental health programs. We let our mental health clients watch from the sidelines and they have to predict the individual cows' behaviors, as they are learning "social thinking" skills by watching and interacting with herds of cows and horses.
The EquiSpirit Ball Helped Through the Weaning Process
Perky's soccer ball has truly helped him thru the weaning process! Perky likes to have the soccer ball in his stall when he is eating. He can push on it or bite at it and of course jump and run with it. I wanted you to know the soccer ball has been a blessing with his weaning. He's doing so good!
— Laurie Bragg
The Cover Lasted 2 Years
I purchased the 40" EquiSpirit soccer ball 2 years ago and my horse absolutely loves it, but he plays with it so hard that he has ripped the cover (I'm thrilled the cover lasted 2 years), so I need to order a new cover.
— Denise Bowman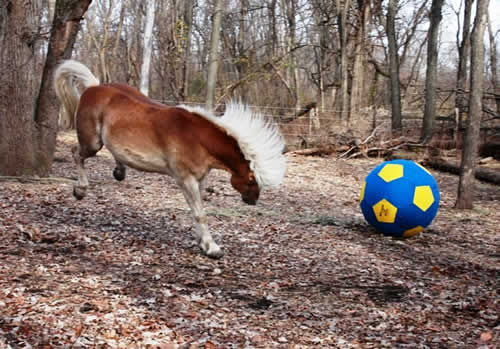 Great Training Tool
My Haflinger, Rusty, really enjoys playing with his equine ball. It has been a fantastic toy, and a great training tool... from teaching Rusty to trot while in the saddle to helping my Haflinger, Adler become braver. I even play "catch" with both horses, rolling the ball to them and they roll it back using their noses.
My German Shepherd, Asa, loves the ball too. So much, that I had to get her own canine size one. My Golden Retriever, Gus, also enjoys it, when Asa lets him!
— Tamra
Matisse and His EquiSpirit Ball
He plays with it every week and he has STILL not killed it! You guys get two thumbs up!
— Wendy Malek
Countless Hours of Fun!
Thank you, thank you, thank you for our new ball! We have enjoyed countless hours of laughter and fun as a result of introducing our horses to this new toy. The horses, kids, and staff are so grateful for your generous gift.
The horse who seems to enjoy the ball most is our precious Hero. His story is a tear-jerker, so it is wonderful to see him happy & playing.
— Sarah Beck
Crystal Peaks Youth Ranch, Bend, OR
So Far No Problems!
I bought the ultimate red and yellow EquiSpirit ball to use personally and for my 4-H horse club. The kids love it and so does my family. My husband and I put on the Pleasant Valley (Young) Stampede and we are in the process of getting teams together to have matches after the gymkhana's.
Some of the horses take to it right away, but if not it has only taken 10 to 15 minutes of slow gradual work with them and they love it also! Anyone thinking about buying one of the ultimate balls, these are tough balls, my 1300 horse rolls all over it and the kids get rough playing soccer and the horses have stepped on it, kicked it, and bite it, so far no problems.
— Candy Wisdom
Scared Horses Got Confidence, Angry Horses Calmed Down
I am a riding instructor/horse trainer. I had one of my clients purchase a 40" EquiSpirit ball from you. She had me familiarize her horse with the ball. Her hope was that the ball would get him moving or playing while turned out in the arena. After the groundwork, I rode "Skip" and we played moving, stopping-controlling where the ball would go. He loved it and it was very natural for him. I borrowed the ball from Gunilla to use at my house - I used it with 5 different horses, all of who had different problems or issues. It was amazing! Scared horses began to get confidence... angry horses attacked it and then became calm.
The work with this wonderful tool creates an environment where horse and rider can bond with each other gaining confidence and a wonderful balance-it is a perfect workout for both body and mind of horse and rider!!!!!
I would love to promote your ball. I am going to start teaching people how to use this ball safely and correctly with their horses. Every person and horse are different individuals and to remain safe must learn to use this ball in a way that is safe for both of them and then fun. Thank you!
— Pam Saxman
Best Buddies with The Ball
I just wanted to thank you so much for Nikko's new "big boy" tough ball and the basketball cover. He absolutely LOVES them both and plays with them all the time! Today I even saw him far away from the herd standing right beside one of the balls sleeping. heehee. They are truly his buddies! Now I just have to buy him the basketball outfit and the headband he wants and we're all set for the season! 🙂
Love and blessings,
— Kim
Great Tool for A Young Stallion with High Energy
Back in June last year, we purchased your 25" (and later also the 40") EQUISPIRIT Ball for my young Stallion. He absolutely loves playing with both sizes, and it has helped with his development enormously - he has so much energy, and this goes a long way to help him not get too frustrated. He has to be in a paddock on his own (although there are horses around him), and whilst this is not ideal for his development, the Ball has proved an excellent way to keep his mind occupied!

Best regards
— Alice Coxon
Pharlacesaw and Her Ball
I just wanted you to know I received the new bladder a few days ago and my husband helped me air it up with the air pump that Ken recommended. The pump worked awesome and in no time the ball was aired up. Took about the amount of time that Ken said it would. What a beautiful Ball!!!
Yesterday, it did not rain so I had my horse "Pharlacesaw" try it out. She was afraid of it at first then realized it just was a bigger version of the smaller ball she had been pushing around and started to push it with her nose for me.
I think I am going to really enjoy that ball. Thanks again for the wonderful customer service you both provided and I will be in the future investing in an extra bladder to have on hand.
— Barbara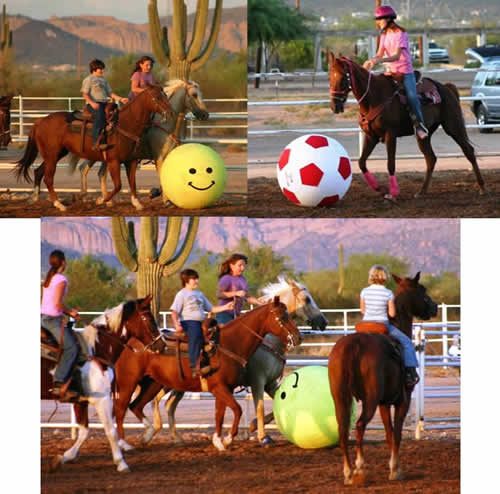 Pharlacesaw and Her Horse Soccer Group
I am going to send you pictures of me and my horse Pharlacesaw playing soccer with a group of horse people as soon as I get them sent to me. Pharlacesaw just loves playing with her ball and she knows that it is her ball and sometimes does not want to share it with the other horses. She steals it away from them. I am waiting to get permission from the others that are in our soccer group to allow you to use their pictures on your website.
I can't believe in just a few short weeks my horse has become a horse with a mission, to push the ball with her nose around the arena. The group we play with wants us on their team!!! In fact, my mare is the only horse right now that pushes the ball with her nose. She also puts "English" like you do on pool balls to control it! Just so awesome to see her enjoy something so much.
Our group meets on Tuesday, this past Tuesday was our second meeting and we added more people and horses, a total of around 12, so we split up into two teams 6 on one side and 6 on the other side including taking turns to be goalies and centers. We had a blast and had a group of spectators watching us and cheering us on. My daughter, who has a photography business, and son-in-law were there to take the pictures for me, so the pictures would turn out good to send you. My son-in-law said to my daughter that he could do that and he is not a horse rider!
I just wanted you to know how much fun I am having with the soccer ball I purchased from you. I may have a few upcoming sales for you, as some of the people are showing an interest in where I got this cool ball from and they have commented on how excellent the quality ball is that you manufacture and sell.
Please be on the lookout for pictures.
— Barbara
Owen, The Roan Quarter Horse, Playing Soccer
Owen is a roan (brown with white flecked fur and then the black leggings) quarter horse and while big for a quarter horse (about 900-1,000 lbs) he is the smallest of the three as the other 2 are warmbloods so are in the 1,300-1,400 lb range. Here is a nice pic of Owen relaxing…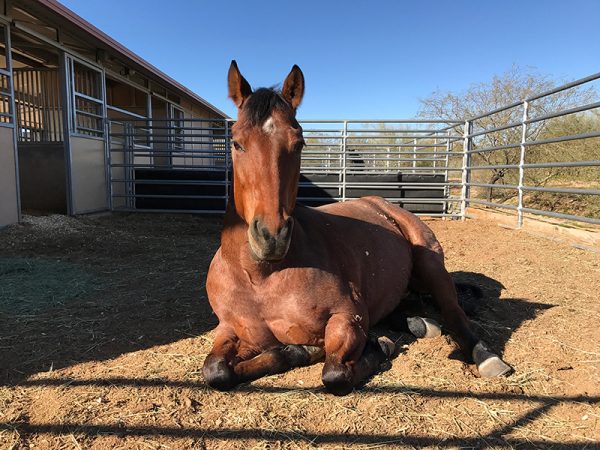 In the second video he is wearing a fly mask. The flies here are bad for about 5-6 months of the year and flies are attracted to moisture so they congregate on their eyes. They don't bite (most species at least) but they irritate the eyes and can transmit bacteria and potentially other parasites so they have fly masks on all day to keep them comfortable. In fact this weekend I ran power down to their turnout so I can hang a fan off the shade structure they have to keep them cool during the summer months (it also helps with flies). They are all pretty spoiled which is a good thing IMHO. 😉 Yes absolutely you have my permission to put Owen on the website. He LOVES his ball….
— Mark
Note: The ball shown is the 40" ball.